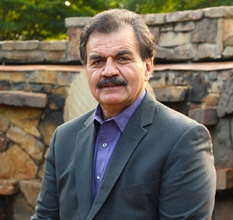 Dr. Oliver McMahan
B.A., West Coast Bible College, 1975
M.Div., Brite Divinity School, Texas Christian University, 1978
D.Min., Brite Divinity School Texas Christian University, 1984
Ph.D., Georgia State University, 1997
Dr. Oliver McMahan has held the positions of Associate Professor of Bible, Dean of Students, and Pastor of the Total Life Center at Northwest Bible College in Minot, North Dakota; Dean and Professor at the Jimmy Swaggart Seminary and Bible College; member of the Executive Council of the Church of God International from 1994-1996, 2006- 2010, and 2012-present; member of the General Board of Education 1992-2000. He was chair for 7 years of the Association of Theological Schools (ATS) Committee on Race and Ethnicity (CORE).
He has more than 25 years experience as a pastor, associate, and evangelist. He is a Bible Conference and Camp Meeting Speaker, Consultant and Seminar Leader. Dr. McMahan has also assisted several pastors and churches in the areas of church leadership, strategy development and counseling. He also has served as Senior Associate Pastor of Mount Olive Church of God and Head Pastor of Cross Pointe Church of God in Cleveland, Tennessee. He founded and directed the Seminary Counseling Center. He has directed non-medical personnel for the Cleveland Good Samaritan Medical Clinic since 1994. He has served as a member of the board for Behavioral Research Services in Cleveland, Tennessee since 2001. He maintains a private counseling practice.
His published writings include Becoming a Shepherd (1995), Scriptural Counseling (1995), Deepening Discipleship (2000), The Caring Church (2002), The Caring Christian (2004), full quarter expositions in the Evangelical Sunday School Lesson Commentary (1982-2002), Editor and author for definitions and articles in Complete Biblical Library (Greek and Hebrew) (1991) and chapters in Distance Writing and Computer Assisted Interventions in Psychiatry and Mental Health (2002), Workbooks in Prevention and Psychotherapy: A Practical Guide for Clinicians (2004), Spiritual Direction and the Care of Souls (2004), and articles in the Journal of Psychology and Theology and other research publications.
email: omcmahan@ptseminary.edu