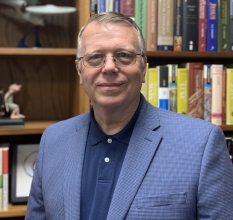 Dr. Dan Tomberlin
Daniel Tomberlin is an ordained bishop in the Church of God (Cleveland, TN) and served as a local church pastor for thirty-seven years. He served as director of Ministerial Development for the Church of God in South Georgia for 15 years; the denominational Division of Education Board for 12 years; the South Georgia Church of God State Council for four years, and the South Georgia Church of God Ministries board for four years.
He studied at East Coast Bible College (Charlotte, NC), Brewton-Parker College (Mt. Vernon, GA), and graduated with the Bachelor of Science from Lee University (1994). He earned the Master of Divinity (2003) and Doctor of Ministry (2014) at Pentecostal Theological Seminary. He has authored Pentecostal Sacraments: Encountering God at the Altar and other books and articles. Dan writes a regular blog at www.DanielTomberlin.net.
Dan is a member of the Society for Pentecostal Studies. His interests include Historical Theology, Practical Theology, World History, Ecumenism, Systems Theory, and Religion and Culture. He has been a life-long Star Trek fan.
"Dan is married to Sharon, and they have two sons: Aaron with wife, Katie, and their son, Eli; Nathan with wife, Alexis, and their children, Levi and Olivia. Dan's most cherished accolade is "Poppa" conferred on him by his grandchildren."
email: dtomberlin@ptseminary.edu