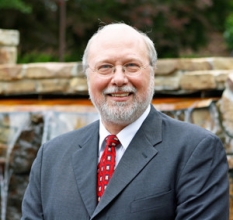 Dr. Lee Roy Martin
Dr. Lee Roy Martin
B.A., Lee College, 1977
M.Div., Church of God School of Theology, 1983
D.Th., University of South Africa, 2007
Dr. Martin has taught at the Seminary since 1992. He served as a Church of God pastor from 1977-2004 and was ordained in 1983. He also served as a District Overseer, State Youth and CE Board member, State Council member, State Director of Ministerial Development, and State Ordination Board member. He has preached in Church of God State Conventions, Prayer Conferences, youth camps, and pastors' conferences. He has taught Bible Institutes, Ministerial Development Institutes, and Ministerial Internship Seminars, as well as classes at Lee University, the Korean Bible Seminary, the Puerto Rican extension of PTS, the Asian Seminary (Manila), the Seminario Sudamericano (Quito), and the Seminaire Theologique de l'Eglise de Dieu en Haiti.
His writings include the following books: Fasting: A Centre for Pentecostal Theology Short Introduction, Biblical Hermeneutics (also in Spanish), Jonah and the God of Grace, The Unheard Voice of God: A Pentecostal Hearing of the Book of Judges, and An Introduction to Biblical Hebrew. He has edited and contributed to other books: Toward a Theology of Pentecostal Preaching, Pentecostal Hermeneutics: A Reader, and A Future For Holiness: Pentecostal Explorations.
His most recent articles in academic journals include: '"Oh give thanks to the Lord for he is good": Affective Hermeneutics, Psalm 107, and Pentecostal Spirituality', Pneuma; 'Longing for God: Psalm 63 and Pentecostal Spirituality', Journal of Pentecostal Theology 22.1; 'Delighting in the Torah: The Affective Dimension of Psalm 1', Old Testament Essays 23.3; '"Where are all his wonders?": The Exodus Motif in the Book of Judges', Journal of Biblical and Pneumatological Research 2; 'Yahweh Conflicted: Unresolved Theological Tension in the Cycle of Judges', Old Testament Essays 22.2; 'From Gilgal to Bochim: The Narrative Function of the Angel of Yahweh in Judg. 2.1', Journal for Semitics 18.2; 'Judging the Judges: Finding Value in these Problematic Characters', Verbum et Ecclesia 29.1; 'Power to Save!?: The Role of the Spirit of The LORD in the Book of Judges', Journal of Pentecostal Theology 16.2.
Dr. Martin serves as Editor of the Journal of Pentecostal Theology and as Immediate Past President of The Society for Pentecostal Studies.
He is married to the former Karen Arlene Luke, and they have two sons, one daughter and two grandchildren.
email: lmartin@ptseminary.edu