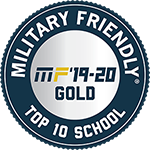 Dr. Michael L. Baker, President of the Pentecostal Theological Seminary, proudly announces that for the 6th year in a row PTS has been designated as a Military Friendly® School, receiving the Top 10 Award, ranking 5th in the top 10! This is a phenomenal achievement and is a testament to the academic programs PTS has built for military service members, veterans and military spouses.
PTS first received this designation in 2013. Military Friendly® Schools are leading institutions that have earned the elite designation. The Military Friendly® survey is the longest-running most comprehensive review of college and university investments in serving military and veteran students. The Top 10 Award schools are the guidon bearers for military/veteran programs and initiatives. They set the standard for other designations and are programs that continue to improve every year. Military Friendly® is owned and operated by VIQTORY, a veteran-owned business that connects military veterans to civilian opportunities.
If you are a military service member, veteran or military spouse deciding on your academic future, we believe that PTS may be "The Right Place" for you. The deadline for Fall 2019 Admission Applications is April 1, 2019. Visit the PTS website at www.PTSEMINARY.EDU for information on the academic programs available and for financial aid information contact Robin Sluder in Financial Aid (423.478.7727).